The Hong Kong Radio Control Soaring Society organized a soaring trip to Grass Island (Tap Mun) on Sunday, 20 April, 2003. Grass island is a small remote island in the northeast coast of Hong Kong. The surrounding scenery is one of the most beautiful in Hong Kong. There is an east-facing slope on the island which is easily accessible with a 5 minute walk from the pier. The trip started early in the morning with members gathered in Pak Tam Chung car park. By the time we arrived, the whole car was full and most of our members had to park their cars in the road side - very costly as they all got a ticket! Anyway, we took the green Taxi to Wong Shek Pier and then on to the ferry to Grass Island. There were totally 13 pilots and 10 guests participated in this wonderful trip, some of them have never soared on this island before. The wind was moderate easterly and the lift is sufficient for all kinds of aerobatic flying. Due to the effect of atypical pneumonia, the whole island was full of tourists running around in our landing area making flying and landing particularly hazardous. The good thing about this, however, is we have many spectators showing their interest and asking lot of questions related to r/c soaring for which we are happy to answer. Slope combat, pylon racing and aerobatic stall turns were all performed with absolute fun. At the end of the day we got not only the memory of this wonderful trip but also the sunburn as well!
We left the island at 5:00pm and took a speedboat ride back to Wong Shek Pier. Then we have arranged a BBQ gathering in Pak Tam Chung BBQ ground. A total of 16 members including guests joined this event with good food and friendly discussions of every day r/c soaring. What a wonderful day!

Setting up a tent to have a hiding place under the hot sun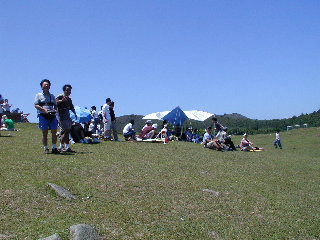 The whole island was packed with tourists

Joe launched his AMD Scorpio

See! Little Lo has a similar flying style as Master Leung. The ways they post are similar too!

What a wonderful place for slope soaring!

Sierra on a closed approach for landing