The Annual General Meeting of The Hong Kong Radio Control Soaring Society for the year 2013 was held in Scenic Restaurant in Cho Yiu Chuen on Saturday, January 12 2014. 29 members and guests attended the AGM. The meeting was started at 7:30pm with the Chairman first presenting his annual report, followed by the Treasurer's financial report. The current team of office bearers was re-elected to serve the club for the year 2014. The team composes of Donny Leung as Chairman, Wong Chak Wing as Vice Chairman, Allen Yeung as Treasurer and Cheng Chung Ming as Secretary. The AGM dinner was started after the meeting. In this annual re-union of r/c soarers, we enjoyed good food under a friendly environment. We were also glad to see many old faces in the AGM. There were also many prizes for lucky draw. All of us enjoyed very much. The club also presented the trophies to the winners of the 2013 Hong Kong F3F league. We are all happy guys, absolutely, and we should be proud of what we achieved, and we are looking forward to continue promoting r/c soaring activities, cheers!
HKRCSS wishes to thank the sponsors for donating the prizes for this event. The sponsors are: ArmSoar Composite Gliders, Windrider Aviation Ltd., Radar Company, Wing Tin Models and KST servos.

Who are the winners of the F3F trophies and luck draw?



It is the AGM and grand dinner again. Chatting before the meeting commence.



The office bearers of 2013. The Chairman and Financial reports were presented.



Ah Mak, what are you doing here in during the AGM?



After the AGM here comes the prize presentation. First is for the match 13 of the F3F league.



And now to the F3F league 2013, Team 2nd runner-up: RC Pro-speed



F3F league 2013, Team 1st runner-up: SMP



F3F league 2013, Team Champion: TKO Eagle



F3F league 2013, 2nd runner-up: Stanley Chan



F3F league 2013, 1st runner-up: Kenneth Chan



Kenneth also got the Fastest-Time title.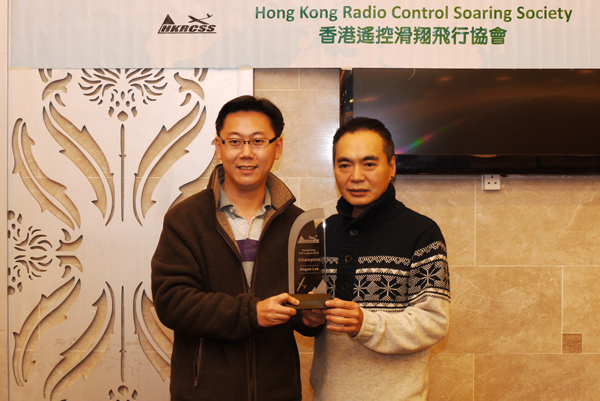 F3F league 2013, Champion: Angus Lee



After the prize presentation, it is the most awaited lucky draw!



Master Leung looks so cool in his new eyes wear!



...and so are Fiona and Taft!



Cheers!



The office of 2013 was re-elected for 2014. Thank you for all your hard work.